Car Shock Absorbers And Suspension Repair Includes
When your car's suspension and shock absorbers are not in the right condition. It's high time to contact us for repairing and replacing them. We are offering various services to our customers, which are:
Leak Repair Services: Sometimes you find out that; the shock absorbers and suspension of your car show undesired leakage. Don't worry; we are the best Perth suspension specialist for fixing your issues.
Replacement Of Components: The most important part of your vehicle is the suspension and shock absorbers. If you need the replacement of these components, contact us and get your work done with the help of our professional team workers.
Routine Maintenance: Do not show irresponsible behavior service your shock absorbers and suspension at regular intervals. Our company specialists perform this task with complete responsibility. We will detect faults and do repair them immediately. We provide the best routine maintenance services in Perth then our competitors.
If you require any of the services given above, then our company is here to serve you!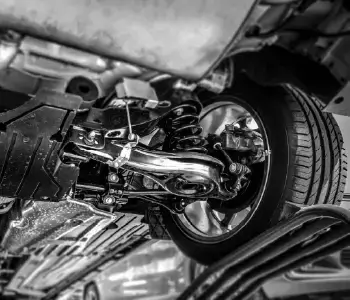 Benefits Of Repair Or Replace Suspension And Shock Absorbers
Healthy suspension and shock absorbers help to move your car smoothly or safely on roads. Immediately replace or repair them if they get damaged. In return, you will get various benefits, which are:
Increase Safety
Wear and tear is a common problem in vehicles, but it may reduce the safety level while driving on the road. Old shock absorbers and suspension cannot control the car. Due to this, road accidents may occur. Repairing or replacing them increases safety.
Maintain Stability
Shock absorbers help in maintaining the stability of the vehicle. The suspension moves vertically to help maintain vehicle control. On uneven and paved roads it becomes easy to drive an automobile because they boost up friction between tires and the road.
Provide Comfort
Comfort is mandatory for smooth driving. Shock absorbers and suspension provide a comfortable level to the passengers sitting in the vehicle. The vibratory motions get reduced due to them on imperfect roads.
Responsiveness of Vehicle
The new or repaired shock absorbers improve the wheel's grip against the driving surface for better control. It helps to increase the vehicle's responsiveness and the ability to take tight turns on the road without facing difficulties.
Why Are We Best?
If you are looking for one of the best automobile repairers in Perth, you are at the right place. We provide remarkable services to our customers. Our company has a professional team of workers who do your work with great honesty.
Peaceful Mind: We have a well-trained and capable team of professionals. Our staff members can easily repair the shock absorbers of your vehicle. After getting services from perthautorepair, your mind will feel at peace.
Affordable Services: Cost-effective services are one of the major concerns. You want the best maintenance services without extra charges. Considering this, we provide shock absorber and suspension repair services at an affordable price than our competitors.
Available 24/7: Unlike others, Perthautorepair provides auto repair services 24/7 in different areas of Perth. If you want to avail of our services any time of the day or night, we are available to meet your custom requirements within no time.
Finished Look: You want flawless auto services and a finished look matters the most for a comfortable drive. Don't worry. We are best at repairing and maintenance of your vehicle's suspension and shock absorbers to give a detailed look.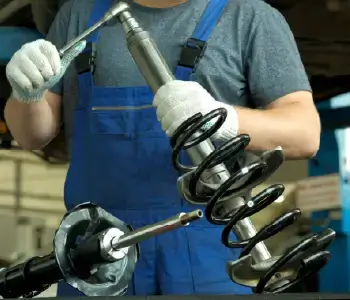 Frequently Asked Questions
Yes, you can drive your car without a shock absorber. But it's not a comfortable journey; your automobile may bounce around.
The suspension may get damaged due to debris, rocks, potholes, and bumps.
The shock absorber will last at least 4 to 5 years.
The suspension starts to wear out between 60,000 to 100,000 miles.