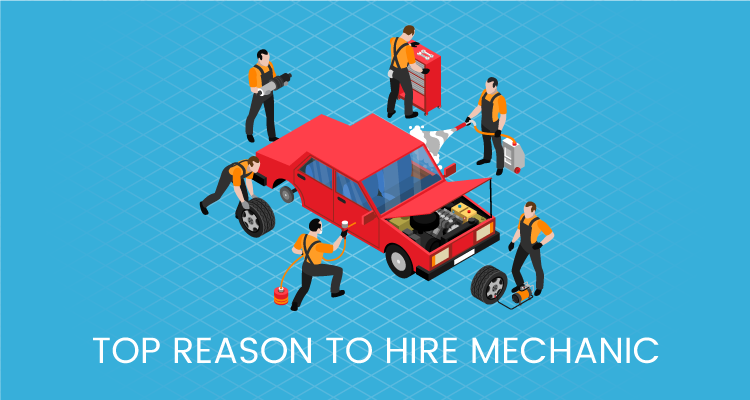 What Are The Top Reasons to Hire a Car Mechanic?
December, 30 2022
Vehicles require services from time to time due to various reasons. Excessive use causes wear and tear in the various parts of the car. For brakes, steering, gas mileage, tyres, oil change, wheels, air conditioning, engines, etc, you need a car mechanic. Perthautorepair offers an outstanding car repair service in Perth for all kinds of automobiles. Our mechanics do their best to examine the issue in your car and provide immediate and practical solutions on time.
Top Reasons to Hire a Car Mechanic
You ride your vehicle on a road. For your and others' safety, it is essential that your car should work properly. That's why you should consult a mechanic who has sound knowledge and the skills to deal with the automobile issue in the right way. Why do you need to hire a mechanic for your vehicle? The reasons to hire a car mechanic are given here
Regular Diagnosis
Checking the vehicle components and systems before going on a journey is essential. Do a regular assessment of your car and check out if there is anything that needs to be repaired. Weekly diagnosis of the vehicle from an expert saves you costly time and cash from wasting. Moreover, whenever you find any issue in the engine, tyres, clutches, suspension system, radiator and brakes etc. On finding issues in the engine, contact the Perth engine repair service to reduce the risk of its failure
Expertise and Knowledge of Vehicle
Most often you don't have the type of knowledge and experience that a technician knows. Because they deal with these kinds of issues multiple times a day. The first to fix the problem is to correctly spot the error. After that they rapidly resolve the issue because of their expertise and skills
Replacement and Repair
There are some things that you need to replace often. Like a battery, timing belt, lights, spark plugs, air filter, alternator and brake pads. For all kinds of brake services, get the best car repair in Perth from perthautorepair. Moreover, call and visit your mechanic whenever you notice any kind of issues:
Difficulty in starting the vehicle
Excessive vibrations and unusual noises
The smell of smoke and exhaust emissions
Leakage of fluids
Issues in changing gears
Decreasing fuel efficiency
Efficient Use of Tools
Vehicles are machines that require tools for their inspection, and repair. Using tools rightly is hard for a layman. This is another major reason that you should hire a car technician. With the efficient use of tools not only do they fix your car issue rightly but also quickly
Cost Effective
Mechanics saves your cash, time and energy. It may seem that you are paying them extra cash for their services. In reality, the cost of the technician is lower as compared to other additional costs. Our company services are highly cost-effective and affordable for our clients.
Professionalism in Work
Being a professional in providing the services of the mechanics is of utmost need. From communicating to behaving with the customers also comes at the responsibilities of the technician. Professionalism is essential for proper assessment and solution of the vehicle.
Whatever the matter, consulting a qualified and professional car mechanic is always worth it. Not only is it helpful from a money and time perspective, but also it is crucial for your safety.