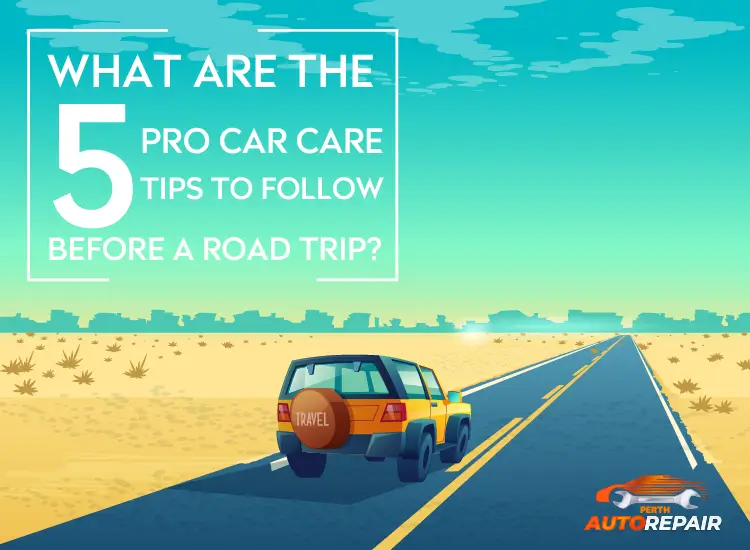 What are the 5 Pro Car Care Tips to Follow Before a Road Trip?
November, 28 2022
The road trip season to indulge in some entertaining moments with friends is here now. Before taking a ride, it's great to cross-check the condition of your vehicle. Is it ready enough to deal with sun-drenched driving?
There is a need to ensure that it can tolerate the high temperatures of summer or not. Most car drivers prefer proper care and maintenance when things get worse. Now is the time to opt for expert services such as Perth Auto Repair. Read on to learn more.
Pro Car Care Tips To Follow Before a Road Trip
Some of the crucial points regarding vehicle maintenance that one must go through before going to a road trip are;
Belts and Hoses Inspection
Perthautorepair experts suggest you must examine the belts and hoses of your car before a long drive. It would be best to replace the serpentine belts after driving 40,000 miles and timing belts every 60,000 miles. Because the worn-down belts could cause great damage to the other components of your vehicle.
In the case of an indigent radiator hose, there would be engine overheating. Therefore, before the hose starts showcasing extreme wear and tear, it is better to change it every 4 years.
Replacing Air Filter
The air filters help prevent toxic pollutants from getting in through vents. Due to its crucial functions, it demands a greater level of care. Keeping an outdated filter in use without any maintenance could cause serious issues for the air conditioning system of your car. If you don't want to let any mishap occur, the best thing to do is to replace air filters year after year. Make sure to change cabin filters after driving 12,000 miles.
Examine brakes before a ride
Ever felt a squeaking noise after hitting the brake? If yes, it means the vehicle brake pads are not functional anymore. No matter whether the brakes of your car are making annoying sounds or demanding little pressure. What it requires is fine-tuning.
Nothing would be worse during a road trip than poor brake condition. Hire Perth Auto Repair company to get great peace of mind. Our expert mechanics thoroughly inspect the brake fluid. They often check and repair brake system to ensure your safety.
Replenishing the Radiator
One of the pro vehicle care tips to keep in mind is removing the outworn antifreeze. All it requires is repair radiator system of the car each year. It keeps your car protected from scale accumulation or any other dust. To follow this procedure, simply visit places that facilitate oil replacement services.
Keeping Cars Mats Clean
The mats of your vehicle might get dirty with muddy shoes or rain-soaked boots if you drive at regular intervals. There are a variety of disposable mats available in the local market. They help in keeping your car neat and clean the whole time.
Alternatively, using carpet scraps would save money. Simply cut them in accordance with the size of your car's shape and floor. When you feel any kind of dirt, either wash it to use again, throw it away, or create a new one.
Avail the help of a superior team at perthautorepair for pro car maintenance services. Be ready to amaze yourself with an exciting road trip with comfort.