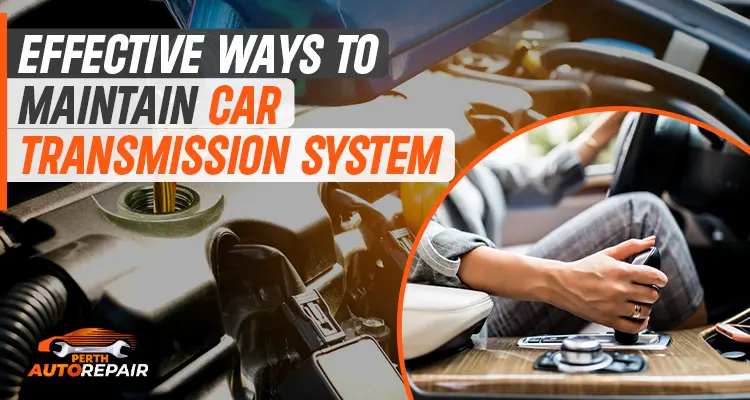 Follow Effective Ways to Maintain Car Transmission System
June, 23 2023
A transmission system plays a considerable role in changing the gears of your vehicle at different speeds. It is something that helps move the power from the automotive engine to the wheels. It is challenging to deal with manual car transmissions. Smart technology has eased drivers with an automatic transmission system which is great. Guess what! This essential component of an automobile requires a routine inspection to run well. Otherwise, in the future, you may face expensive repairs and replacement procedures. Don't bother! In case you are not savvy in basic car maintenance, bring your vehicle to Perthautorepair shop. Our mechanics are expert enough in pinpointing the accurate problem and fixing it on the spot. This comprehensive guideline covers effective car transmission system maintenance tips! Continue reading ahead!
Effective Ways to Maintain Car Transmission System
You might know that most cars can continue to function properly past 100,000 miles only if they are in tip top condition. It simply means changing the automotive engine oil at recommended intervals and ensuring that the transmission system of your car remains in optimum condition. Want to avoid expensive transmission repairs? Follow the topmost tips mentioned below:
Learn Car Transmission Basics
We are not recommending enrollment in a class to have a broad knowledge of the vehicle transmission system. But, at least, you should know about the transmission basics, right? Search on Google to know about the clear-cut uses of car transmissions and the type of fluid color showing that your vehicle is healthy. Learn something about the major issues and how to avoid them. If not, invest in hiring our affordable and personalized auto mechanic help.
Inspect the Transmission Fluid
The transmission fluid shows whether your automobile is in good condition or not. It is paramount to inspect the fluid levels to ensure effective transmission maintenance. Park your vehicle without switching off the engine and check the fluid level. All you have to do is pull out the engine dipstick, wipe it, and then insert it back. A low fluid level shows fluid leakage. Red fluid color? Oh, great! But, in case of dark fluid color, seek Perth auto transmission service.
Keep a Check on Cooling System
Being a vehicle driver, you must be aware that the radiator and the cooling system help keep the automotive engine cool. The majority of people don't know that this cooling prevents the pumping of transmission fluid via the gearbox from overheating. There is a need to make sure that the cooling system of your automobile doesn't overheat. Keep the cooling system of your automobile in perfect shape, ensuring that there is an adequate coolant. You must follow this tip.
Have a Look at the Vehicle Brakes
Most drivers are habitual in pressing their feet lightly on the vehicle brake pedal. It is not considered a good practice. You have no idea even a little push on these brake pedals puts a higher level of strain on the transmission system and the engine. This unnecessary pressing of the brakes results in turning the brake switch light of the automobile on. However, if you notice a severe problem that you are not aware of, hire car transmission specialist instantly!
Be Careful When Changing Gears
It is highly recommended to be very careful when changing the gears of your vehicle. For example, make sure to not change gears while your automobile is moving. Instead of doing so, it's best to bring your automobile to stop before changing any gears. If you somehow fail to do so, it will put a strain on the vehicle transmission fluid, leading to a very serious problem after a while. Think twice before changing the car gears!
Avoid Too Much Stop and Go Traffic
Excessive traffic has a devastating impact on the automotive transmission system. How so? Too much traffic can create a condition where there is a constant in-and-out shifting of low gears by transmission. Each time this vehicle transmission shifts, it indicates the generation of more engine heat. Elevation change in the atmospheric oxygen concentration makes traffic more problematic. Dealing with the annoying logjam of traffic? Noxious to car transmissions though!
Schedule Routine Maintenance
No matter which model the vehicle is, always make sure to schedule routine automotive maintenance. Keeping your automobile in optimum condition is the only way to ensure that the transmission system fluids are filled to sufficient levels. Other than this, it also makes sure that your vehicle performs to a great level as it should. It is said that prevention is way better than cure, right? It is worth considering taking your automobile for annual transmission checks.
Experiencing potential problems in the transmission system of your vehicle? Don't rush anywhere! Let Perthautorepair professionals run a thorough automotive inspection, saving you a lot of money on expensive repairs and replacements in the long run!