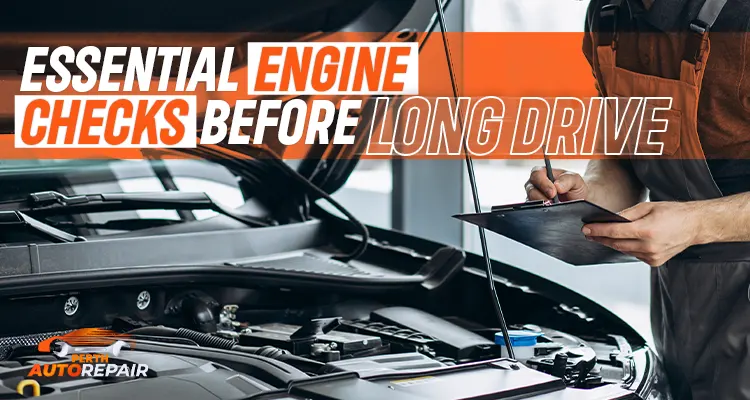 Essential Engine Checks Before Long Drive
May, 22 2023
It's important to inspect the car engine before going on a long journey. It plays a vital role in the smooth performance of the car. You must make sure that your car's engine is in good health so that you can have a smooth journey without any malfunction or mechanical problems. For this reason, you need to hire the most reliable auto repair service that can save you from any mishap during your trip.
Important Pre-Journey Engine Checks
We understand the importance of getting your car engine checked before going on a trip. In this article, we are going to tell you about some of the crucial pre-journey checks that you must make to avoid unnecessary trouble on the road.
Check Engine Oil
Oil plays a very important role in keeping your car engine in good health. You should check the oil level before leaving for a long drive as it helps in smooth driving. If your oil changing date is not so far, have it changed before going for a long drive. Some of the modern cars monitor the oil level and inform you by displaying it on the dashboard. But if this is not the case with your car, you must go for Perth Engine Repair Service before it's too late. Don't take the risk of driving the car with low engine oil as it can result in costly damage. Moreover, you're most likely to face mishaps and breakdowns on the road. But don't even try to put extra oil into the engine as it can damage your engine.
Inspect Engine Coolant
The second important thing you should check before a long journey is the engine coolant. It helps in protecting your engine from overheating and plays a vital role in keeping your engine at normal temperature. However, the best time to check the level of engine coolant is at least eight hours after your last drive, when the engine is cold. Some cars will inform you whenever your energy coolant level is low or empty. But still, no matter if your car is old or new, you should get it checked by an experienced mechanic before a long drive so that you can enjoy your trip without facing any problems during the trip.
Check Battery
The battery is one of the most subtle components of the car that requires extra care and maintenance. We cannot even start the car without a battery as it gives the power to start. The performance of the battery reduces with time and you may require to get the new one after a few years. Thus, you must have it checked before your trip. Normally, a car gives some of the prominent signals that show your battery is going to be dead in no time. It includes your car taking more time to start than usual, unusual noise when starting the vehicle, dim headlights, and so on. If you're experiencing any of these signs, get your battery checked and repaired by our professional auto repair service before going for a trip.
Fuel Level
Do you want to avoid hitches on the road? Fill up your fuel tank and get on the road. It is one of the important checks you need to make before going for a long drive. Fuel is a crucial component of the combustion engine process which is converted into energy to move your car. A full tank before a long drive will keep you relaxed as you don't have to hunt for fuel in the middle of your journey. Thus, you must fill your tank to boost your engine performance and have peace of mind throughout your journey.
The car's engine must be well maintained as it directly affects your car's performance. Properly maintaining your engine will save you from costly engine replacement as regular checkups will extend its lifespan. Moreover, if you neglect the issues your car is showing you, it will result in some big problems like accidents or car breakdowns. There are a lot of components in the engine that need to be fixed to have a peaceful journey. Otherwise, it can become life threatening to you, your family, and other people on the road as well.
Thus, if you are planning to go on a long trip with your family, you should visit Perthautorepair as soon as possible. We have a team of experienced, professional, and well trained staff that is aware of every detail of the car. Whether you want to change engine oil, sort out engine coolant issues, or replace your battery, we are here to make all your problems disappear. Hire us for reliable services as we make sure that your car is in perfect condition before a long drive and you don't face any hurdles in the middle of the road and have a smooth journey.